MetaTrader 5 Trading Platform
The best application for trading Currencies, Stocks and Futures
MetaTrader 5 is a multi-asset platform that allows trading Forex, stocks and futures. It offers superior tools for comprehensive price analysis, use of algorithmic trading applications (trading robots, Expert Advisor) and copy trading.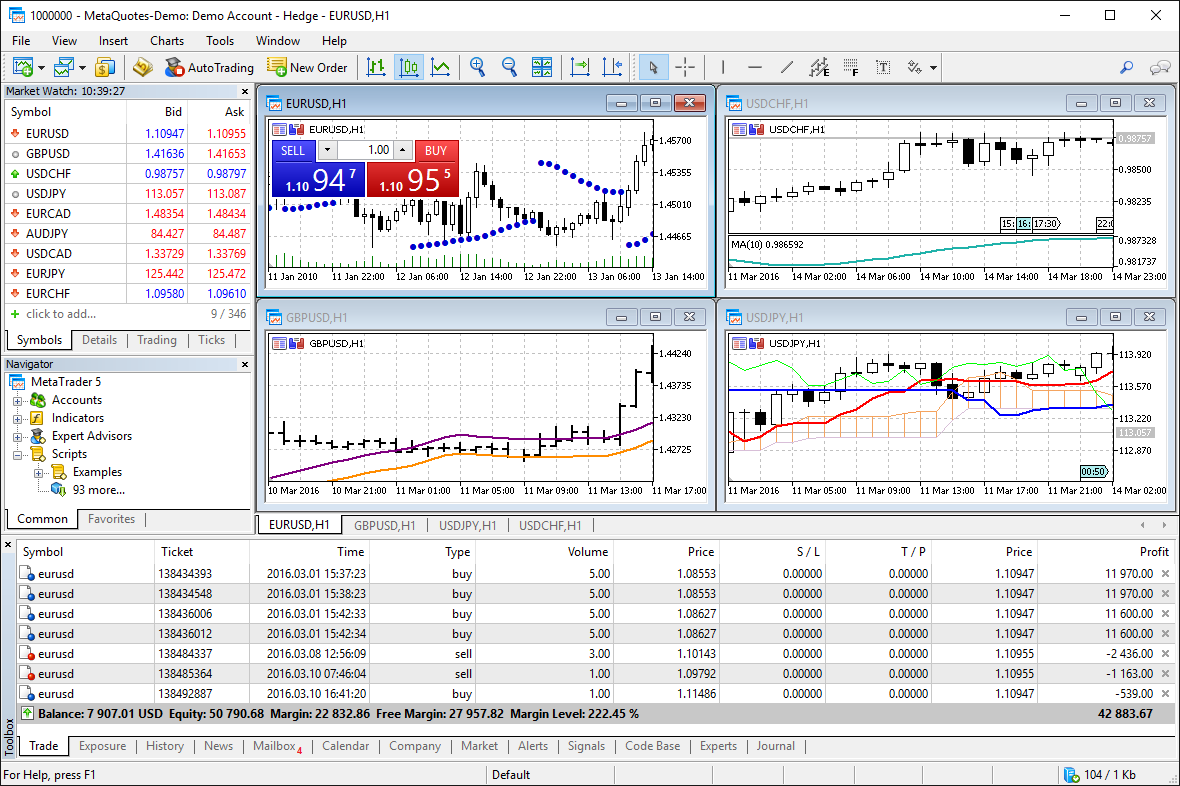 The MetaTrader 5 multi-asset platform supports the hedging method, which allows opening multiple positions of the same financial instrument, of opposite or same direction. This feature is widely used in Forex trading
Flexible trading system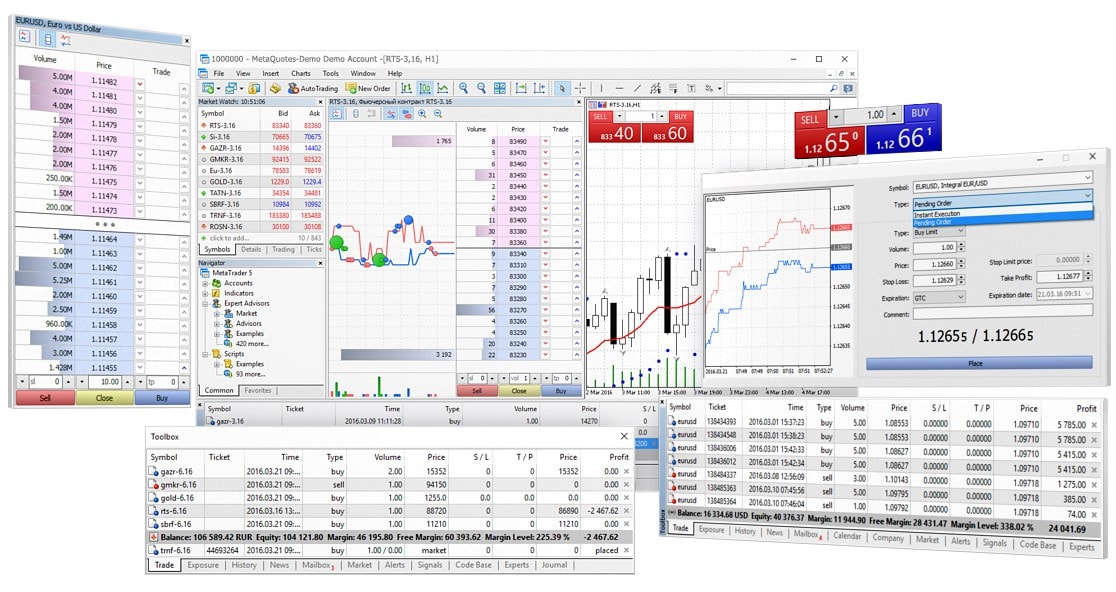 MetaTrader 5 delivers a powerful trading system with the Market Depth and a system of separate accounting of orders and trades. It supports both order accounting systems: the traditional netting system and the hedging option system. Four order execution modes are available to meet various trading objectives: Instant, Request, Market and Exchange execution. The platform supports all types of trade orders, including market, pending and stop orders, as well as trailing stop.
With such a diversity of order types and available execution modes, traders can use any trading strategy for successful work on the financial markets.
Do you want to know more? Click here >>
Professional technical analysis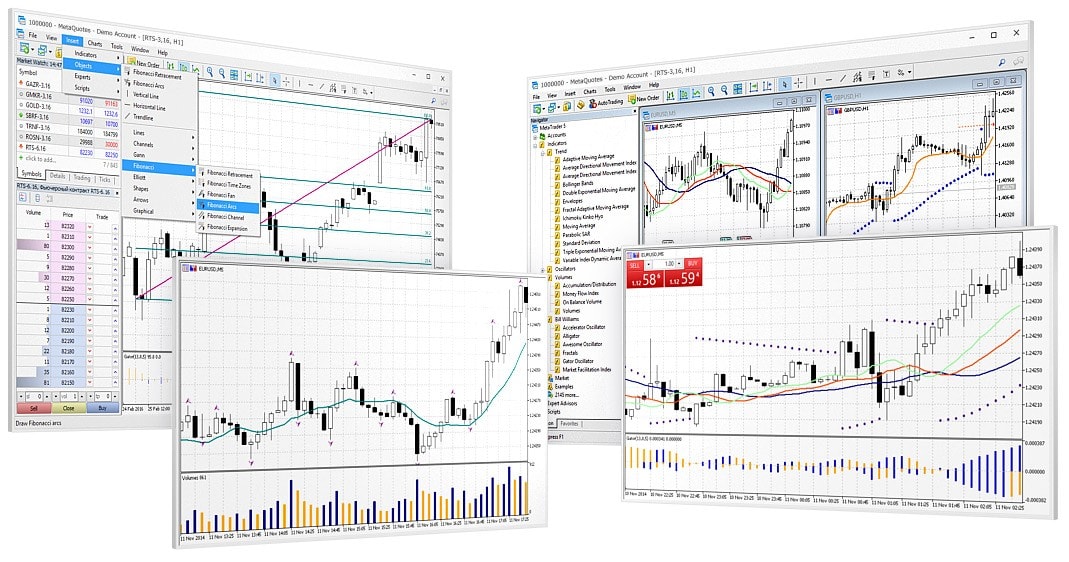 The platform represents the all-in-one concept and offers impressive analytical tools. It allows opening up to 100 charts of currency and stock quotes at a time. The 21 timeframes available enable comprehensive detailed analysis of all minor price movements. More than 80 technical indicators and analytical tools, including graphic objects, provide detailed analysis of quote dynamics.
Furthermore, analytical resources of the terminal are not limited to the built-in tools. Traders are welcome to choose between thousands of free of charge indicators from the Code Base, purchase or rent applications from the Market of more than 2500 ready-made algorithmic applications, as well as to order custom indicators from professional programmers through the Freelance service. With the high performance of the MQL5 programming language, you can create your own indicator with your own unique characteristics. All these features enhance the analytical capacity of your platform and your ability to achieve the most detailed and accurate technical analysis of quotes.
 Learn more about technical analysis in MetaTrader 5 >>
Fundamental analysis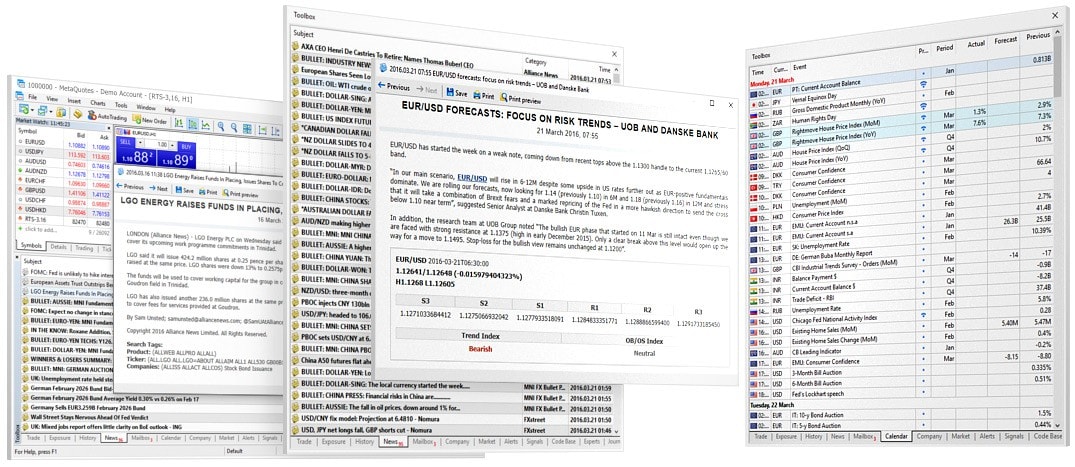 Fundamental analysis is another tool that can be used to forecast the price dynamics of financial instruments. The aim of fundamental analysis is the constant monitoring of various open-source economic and industrial indicators. Original fundamental data is available straight from MetaTrader 5.
News reports from international news agencies are broadcast directly into the platform, providing you with the essential financial information. The economic calendar features the main macroeconomic indicators of different countries, allowing traders to analyze their impact on various financial instruments.
Stay tuned and make more weighted trading decisions from the benefit of having access to financial news and economic calendar straight from your platform!
Read more about the fundamental analysis >>
Trading signals and Copy Trading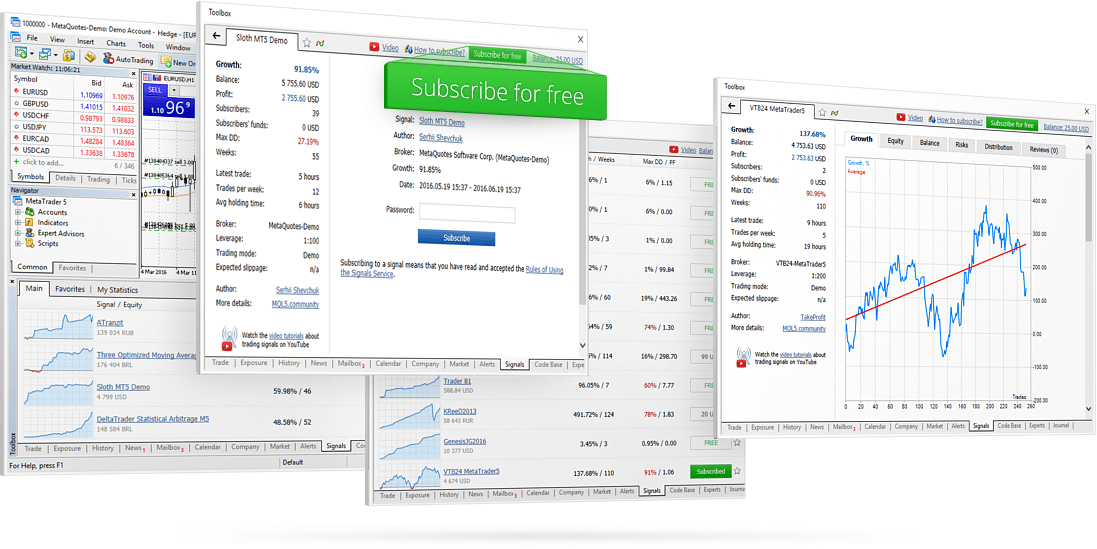 No time for manual trading or analyzing the markets? That's not a problem: subscribe to a signal of a successful trader, and MetaTrader 5 will automatically reproduce all his trades on your account. Choose from hundreds of free and paid signals available for demo or live accounts with the preferred risk level and profitability. Subscribe to the selected signal provider in just a few clicks, and your platform will trade automatically for you. You may choose to monitor trading results or completely rely on the signal behavior.
With the MetaTrader 5 copy trading option you no longer need to trade by yourself. Instead, let your platform trade for you like a pro!
To read more about copy trading click here >>
Mobile Trading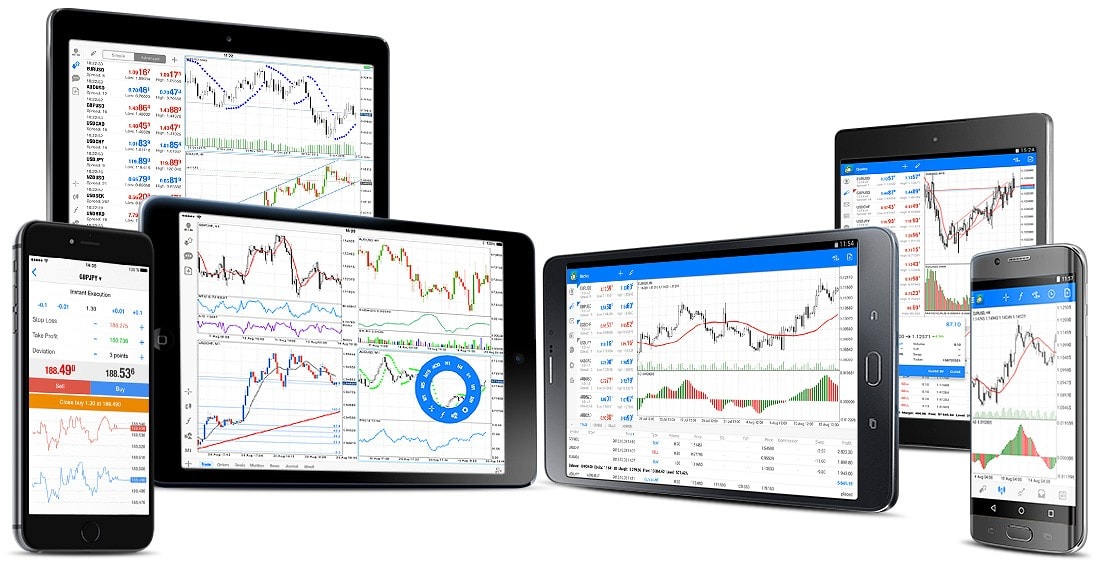 Full-fledged financial market trading can be enjoyed without even a desktop computer. The only thing you need to do is to install the mobile version of MetaTrader 5 for Android or iOS on your smartphone or tablet. Mobile applications support the full set of trading function, provide extensive analytical capabilities through the use of technical indicators and graphical objects, as well as allow you to monitor account status, view your trading history and more.
That's it! Financial markets are at your finger tips with the MetaTrader 5 mobile platform!
Want to know more and download the app on your device? Click >>
Algorithmic Trading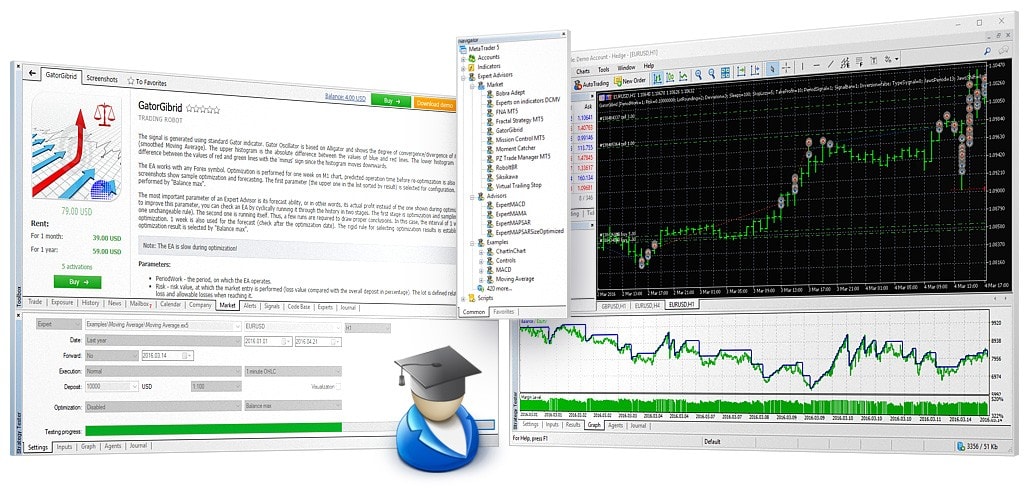 One of the most impressing features of your MetaTrader 5 is Algorithmic Trading. This feature implies automated trading using specialized applications — trading robots (Expert Advisors). The robots operate without the participation of the trader — they can analyze quotes and perform trading operations following an underlying algorithm.
Do you have a successful trading strategy? Robotize it and forget about routine market analysis and trading. The MetaTrader 5 system provides for the entire development environment to help you create and optimize your own trading robots. With the high-performance MQL5 programming language you can create Expert Advisors utilizing heavy calculations for the most accurate technical analysis and forecasting.
If you are not enthusiastic about programming, choose from thousands of ready-to-use trading applications. Download free apps from the Code Base, purchase or rent products from the Market or order custom applications from professional programmers using the Freelance service — the choice is in your hands.
Read about algorithmic trading in a separate section >>

The institutional multi-asset MetaTrader 5 platform provides everything needed for full-fledged and flexible trading operations. The platform offers a powerful arsenal of tools available with a click of the mouse: a flexible trading system, technical and 
fundamental analysis
, professional MQL5 development environment, multi-currency tester and alerts. Moreover, to ensure the best user experience and to eliminate language barriers for millions of traders around the world, we have translated the platform interface to 31 most widely spoken languages.
However, the built-in functionality is just the tip of the iceberg. Additional services deliver thousands of new features. Subscribe to signals, run trading robots, use technical indicators and rent a virtual server. With the unique MetaTrader 5 ecosystem, you have all the possibilities to become a successful trader!