WTI prices under pressure in a technical correction amidst USD strength
Oil prices slump to a 38.2% Fibonacci level despite the fundamentals.
A technical correction as profit-taking ensues has been in play while the greenback spikes.
The reflation trade has been gathering pace which has seen investors move over to riskier asset classes in the past number of trading session where US oil prices rallied to fresh cycle highs. 
"The Great Rebalancing is still accelerating, resulting in a sharp tightening of inventory balances, but we reiterate that OPEC+ extraordinary supply management remains the overwhelming force behind the tighter balances," analysts at TD Securities argued.
"Yet, Saudi Arabia's voluntary unilateral 1mbpd cuts will likely end after March, while Libyan port closures, Russian export restrictions and particularly strong compliance from the OPEC+ group have created tremendous tailwinds which may not be sustainable, at a time when demand fears tied to lockdowns proved to be overblown."
This leaves the outlook bullish, for the medium and longer terms, although from a technical perspective, the price has given back some ground in a 38.2% Fibonacci retracement of the latest bullish impulse. 
This has occurred despite the energy crisis that has been deepening in the US where the coldest weather since 1989 has forced the shutdown of some of the largest refineries and disrupted pipeline flows.
"While Permian production is plunging, estimates suggest that more than 3m bpd of processing capacity has also been idled," analysts at TD Securities explained.
However, the analysts are cautious of the higher prices considering that the higher price environment would be expected to incentivize nations to unwind the excess capacity into the market in just a few months.
"In this context, the massive surge in WTI call trading, just as prices recover north of $60/bbl, suggests that market pricing may be overly optimistic."
WTI technical analysis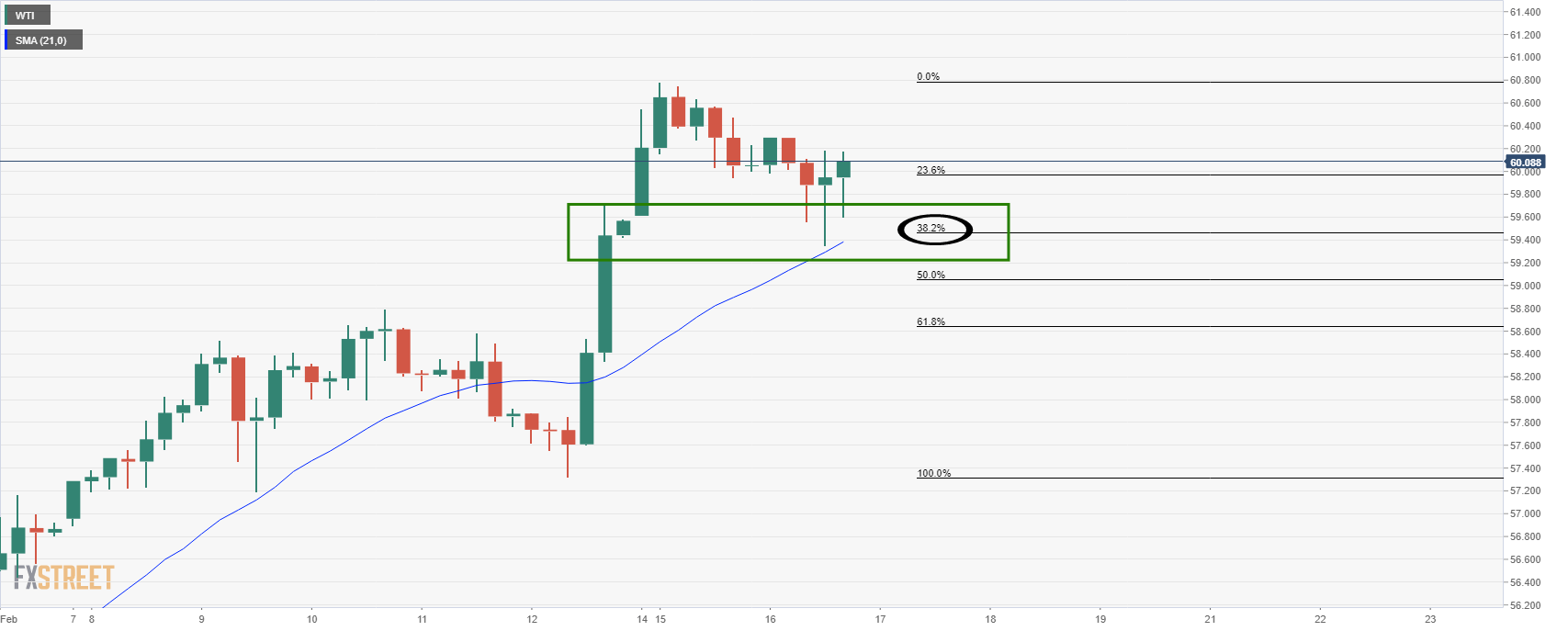 The price would be expected to hold at support as we have seen bulls step in at a significant 38.2% Fibonacci retracement level whereby the 21-moving average meets the structure.
Should there be any further downside, a 61.8% Fibo would be targetted with the confluence of the prior resistance. Below there, the bears will be back in control. 
""Source From Fxstreet""